Ground Report – Golden Ball Hill, Wiltshire, 08/05/05
The first Wiltshire crop circle of the season lies adjacent to Golden Ball Hill, surrounded by the stunning landscape of the Vale of Pewsey. With a view of Picked Hill, Woodborough Hill, Adam's Grave, East Field and many other striking and significant landmarks as a backdrop, this location makes for an aesthetically delightful experience from both inside the crop circle and above it from Golden Ball Hill.
Situated in exactly the same location as a formation of last summer, a 'ghost' image can be seen surrounding the new crop circle.
Aware of the fact that the farmer who owns the field has a reputation for not being the biggest fan of the phenomenon or visitors in particular, we hadn't planned to spend too long inside the field or the formation itself. A very gusty wind made pole shots difficult and a flying visit by Steve Alexander ensured that our time visiting this beautiful crop circle was limited. The atmosphere inside the crop circle however, was particularly peaceful and tranquil, surprising considering the weather conditions.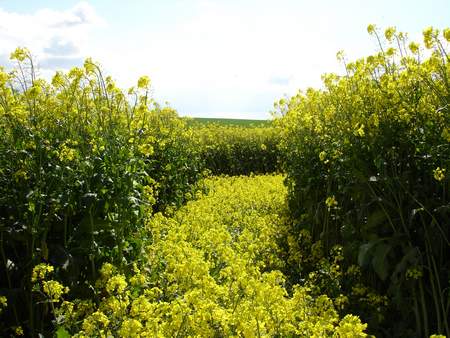 The formation consists of a six petalled flower design of standing crop, surrounding a standing ring and small central circle of laid crop. Each of the six petals is formed by a half-ring shape set at an angle to the central point, giving the impression of small semi-circular shapes punctuating the inside edge of each petal. It appears that the half ring petals are equal in size to the central standing ring. If two of the petals were joined to form a new ring, it would possibly be the same size as the central one.
The fluid clockwise lay and virtually head high oil seed rape stems lining each of the curved pathways made walking the formation very enjoyable. The crop circle has clearly been well visited, despite the potential hostility of the farmer, with well trodden tracks throughout.
Where different directional flows meet there are some lovely overlaps as the crop continues it's course around and towards the centre.
The centre itself is also well trodden, but the original swirled nature can still be seen.
We left the formation shortly after Steve began circling above, to ensure not all of his stunning images have us in them, and on leaving the field met three more visitors who had just experienced a camera battery draining. This had happened before entering the field, and as always, may or may not be significant.
All in all a very pretty crop circle, with an atmosphere of calm and serenity, combined with the excitement of our first visit of the year to this sacred landscape made for a tremendously worthwhile and memorable expedition. Here's to many more!
Crop Circle Summary
| | |
| --- | --- |
| Location | Alton Barnes, Wiltshire |
| Crop Type | Oil Seed Rape |
| Design | Flower Like Pattern |
| Date of First Sighting | 01/05/05 |
| Survey Date | 08/05/05 |
Alternative Websites