Ground Report - Ringmer, Sussex, 29/04/05
The first Sussex formation of the year is a simple yet beautiful ring of laid crop in oil seed rape. It is located just to the North of Malling Down, next to the B2192 which runs between Lewes and Ringmer. The crop circle can be seen from the road between two electricity pylons, although the road isnít much higher up than the field so it can be easily missed. To my dismay I realised a week after its appearance that I had looked in the field the day it was first reported, but had not noticed it!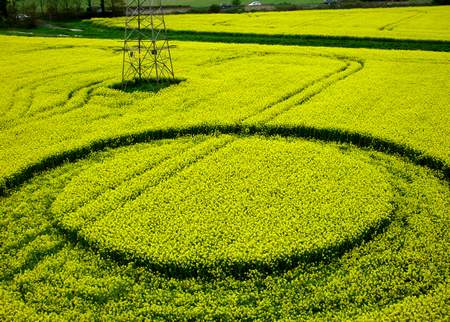 The oil seed rape flowers now in full bloom, made for a striking contrast between laid and standing crop, and although a week old by the time we visited it, the condition of the crop inside the formation was still good. Laid entirely in a clockwise direction, the flow is very neat and there are many examples of the familiar bent stems, present in many oil seed rape formations (see photo below).
Apart from itís striking simplicity, the main notable feature of this crop circle is the large area of standing crop at itís centre. There is no evidence of these stems having been disturbed, no entry points from the ring itself, and no apparent damage to the crop itself. The image below shows the exact point at the centre of this standing crop.
The crop circle is approximately 80ft in diameter. As I have mentioned, the condition of the crop inside was good, with some evidence of visitors having scuffed the laid stems but none of the damage we saw in the Hampshire crop circle a week earlier. The flowers were also predominantly intact, some phototropism beginning to occur as the plants grow back up towards the sun.
The two imposing electricity pylons provide a stark and stirring contrast to the natural and gentle surroundings of the field itself, surprisingly peaceful considering the close proximity to what is a fairly busy road.
This uncomplicated formation gets the Sussex crop circle season off to a promising start and with mounting anticipation for the next exciting event, we wait with baited breathÖ
Crop Circle Summary
| | |
| --- | --- |
| Location | Ringmer, East Sussex |
| Crop Type | Oil Seed Rape |
| Design | 80ft ring with standing centre. |
| Date of First Sighting | 23/04/05 |
| Survey Date | 29/04/05 |
Alternative Websites